- DaF - Deutsch als Fremdsprache -
Rudolf Rausch, Horst Rothe
besser DEUTSCH sprechen®
Speaking Better German

multimedia teachware
learning German pronunciation and grammar
language learning software

dasselbe in Deutsch
---

For
foreigners,
German language teachers
(future) announcers or the like

students of German, esp. German phonetics,
anybody who is interested in a better command and more pleasing use of German

To facilitate German language learning we started developing a software package in 1990, providing, in particular, knowledge about German pronunciation. Dr. Rausch, the author of the book "Deutsche Phonetik für Ausländer", has gained vast experience after many years of teaching German language to foreign students. Our program, previously called ENDUNGEN, has benefitted from this experience.

The program has been available for several years in more and more advanced versions with growing content. The current version contains a nearly complete section about pronunciation as well as an extensive part of German grammar, especially concerning the construction and usage of German verbal forms.

Due to the increased content, the name "ENDUNGEN" was no longer appropriate for our product. That is why the program is now called "besser DEUTSCH sprechen" and is available on CD.
The program covers the wide area of German pronunciation, and what's more, you can HEAR any example in excellent quality, from both the technical and phonetical points of view. At any time you like, you can record your own speech and compare your sample with the reference pattern supplied by our program.

Meanwhile more than 20,000 audible examples are included - from single sounds to words and complete sentences. This even includes some poems!

You will find explanations on how to reduce endings phonetically, a description of how to assimilate sounds in German, and even an explanation of what geminates are. A big part concerns stress of single words and the problem of sentence melody and weight point of sentences is included too.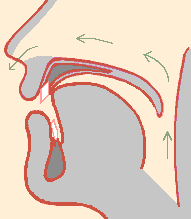 Tools such as
speaking dictionary,

abbreviation list and acronym expander
are integrated!

further information: besser DEUTSCH sprechen® 99.1
---

System requirements:
minimal:

486 PC 66MHz
sound card
loudspeaker or ear-phone and microphone
CD-ROM drive
VGA
Windows 95 or Windows 98 or Windows NT or Windows 3.x
free memory on harddisk ca 15 MByte

recommended:

Pentium or newer
16-Bit Sound
CD-ROM at least 4 speed
screen resolution at least 800x600
You can order the CD-ROM at

World of Reading, Ltd. in Atlanta, Georgia e-Mail: polyglot@wor.com or at

Weltz & Partner, Leipzig, Germany
---