"Science is the belief in the ignorance of experts" (R. Feynman)
Megaripple mechanics: bimodal transport ingrained in bimodal sands
in Nature Communications 2022
by Katharina Tholen, Thomas Pähtz, Hezi Yizhaq, Itzhak Katra & Klaus Kroy
Aeolian sand transport is a major process shaping landscapes on Earth and on diverse celestial bodies. Conditions favoring bimodal sand transport, with fine-grain saltation driving coarse-grain reptation, give rise to the evolution of megaripples with a characteristic bimodal sand composition. Here, we derive a unified phase diagram for this special aeolian process and the ensuing nonequilibrium megaripple morphodynamics by means of a conceptually simple quantitative model, grounded in the grain-scale physics. We establish a well-preserved quantitative signature of bimodal aeolian transport in the otherwise highly variable grain size distributions, namely, the log-scale width (Krumbein phi scale) of their coarse-grain peaks. A comprehensive collection of terrestrial and extraterrestrial data, covering a wide range of geographical sources and environmental conditions, supports the accuracy and robustness of this unexpected theoretical finding. It could help to resolve ambiguities in the classification of terrestrial and extraterrestrial sedimentary bedforms. (See also: Science News, EurekAlert)
Finite-Size Scaling at the Edge of Disorder in a Time-Delay Vicsek Model
in Phys. Rev. Lett. 2022
by Viktor Holubec, Daniel Geiss, Sarah A. M. Loos, Klaus Kroy, and Frank Cichos
Living many-body systems often exhibit scale-free collective behavior reminiscent of thermal critical phenomena. But their mutual interactions are inevitably retarded due to information processing and delayed actuation. We numerically investigate the consequences for the finite-size scaling in the Vicsek model of motile active matter. A growing delay time initially facilitates but ultimately impedes collective ordering and turns the dynamical scaling from diffusive to ballistic. It provides an alternative explanation of swarm traits previously attributed to inertia.
How Activity Landscapes Polarize Microswimmers without Alignment Forces
in Phys. Rev. Lett. 2021
by N. A. Söker, S. Auschra, V. Holubec, K. Kroy, and F. Cichos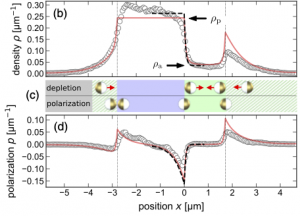 Active-particle suspensions exhibit distinct polarization-density patterns in activity landscapes, even without anisotropic particle interactions. Such polarization without alignment forces is at work in motility-induced phase separation and betrays intrinsic microscopic activity to mesoscale observers. Using stable long-term confinement of a single thermophoretic microswimmer in a dedicated force-free particle trap, we examine the polarized interfacial layer at a motility step and confirm that it does not exert pressure onto the bulk. Our observations are quantitatively explained by an analytical theory that can also guide the analysis of more complex geometries and many-body effects.
Active Brownian Heat Engine
in Phys. Rev. Res. 2020
by V. Holubec, S. Steffenoni, G. Falasco, & K. Kroy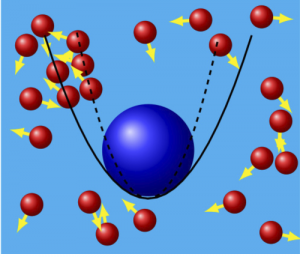 When do nonequilibrium forms of disordered energy qualify as heat? We address this question in the context of cyclically operating heat engines feeding on nonequilibrium energy reservoirs that defy the zeroth law of thermodynamics into work. To consistently address a nonequilibrium bath as a heat bath in the sense of the second law of thermodynamics requires the existence of a precise mapping to an equivalent cycle with an equilibrium bath at a time-dependent effective temperature. We identify the most general setup for which this can generically be ascertained and thoroughly discuss an analytically tractable, experimentally relevant scenario: a Brownian particle confined in a periodically modulated harmonic potential and coupled to some nonequilibrium bath of variable activity.
Physically consistent numerical solver for time-dependent Fokker-Planck equations
in Phys. Rev. E 2019
by V. Holubec, K. Kroy, & S. Steffenoni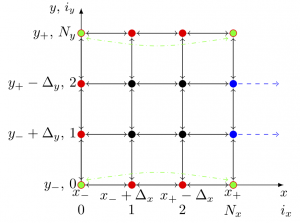 We present a simple thermodynamically consistent method for solving time-dependent Fokker-Planck equations (FPE) for overdamped stochastic processes, also known as Smoluchowski equations. It yields both transition and steady-state behavior and allows for computations of moment-generating and large-deviation functions of observables defined along stochastic trajectories, such as the fluctuating particle current, heat, and work. The key strategy is to approximate the FPE by a master equation with transition rates in configuration space that obey a local detailed balance condition for arbitrary discretization. Its time-dependent solution is obtained by a direct computation of the time-ordered exponential, representing the propagator of the FPE, by summing over all possible paths in the discretized space. The method thus not only preserves positivity and normalization of the solutions but also yields a physically reasonable total entropy production, regardless of the discretization.
Aeolian sand sorting and megaripple formation
in Nature Physics 2018
by M. Lämmel, A. Meiwald, H. Yizhaq, H. Tsoar, I. Katra & K. Kroy
Sand is blown across beaches and deserts by turbulent winds. This seemingly chaotic process creates two dominant bedforms: decametre-scale dunes and centimetre-scale ripples, but hardly anything in between. By the very same process, grains are constantly sorted. Smaller grains advance faster, while heavier grains trail behind. Here, we argue that, under erosive conditions, sand sorting and structure formation can conspire to create distinct bedforms in the 'forbidden wavelength gap' between aeolian ripples and dunes. These so-called megaripples are shown to co-evolve with an unusual, predominantly bimodal grain-size distribution. Combining theory and field measurements, we develop a mechanistic understanding of their formation, shape and migration, as well as their cyclic ageing, renewal and sedimentary memory, in terms of the intermittent wind statistics. Our results demonstrate that megaripples exhibit close similarities to dunes and can indeed be mechanistically characterized as a special type of ('reptation') dune.
see also Physics World, Physics Today, PhysOrg News, Press Release