About us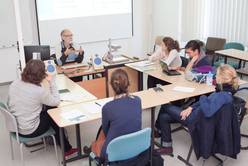 The Graduate Center Humanities and Social Sciences consists of nine structured doctoral programmes (units), where junior researchers are taught by lecturers and professors from a wide range of disciplines. These programmesare partly closely connected with each other as for their thematic approaches and jointly integrate the elements of the qualification programme (research seminars, working groups, colloquia and workshops on key qualifications).
The research seminars are tailored to the particular needs of the PhD candidates and introduce current controversies in research and methodological problems at the interface of various disciplines. In the working groups, the doctoral candidates discuss the development of their dissertations in a small circle of professors and fellow PhD students. The colloquia mainly serve as a platform for PhD students to discuss common questions and their progress, while the workshops are designed to prepare them for the multifaceted requirements of an academic career.
Further integral parts of the programme are the annual summer school and the conferences. Numerous co-operations and the participation of internationally renowned guest lecturers connect the Graduate Centre with many national and international universities and prestigious research institutes. Currently, more than 250 PhD students are enrolled at the Graduate Centre and more than 50 professors from six faculties of the Leipzig University and several extra-university research centres supervise their work.