We start the new year 2020 with two brand new publications on the subject of wind energy deployment. With the articles "Wind turbine seeks location" in the Katapult magazine and "Does the climate package lack an area target for onshore wind energy?" in the magazine Wirtschaftsdienst, we have placed the latest results of our research group in the context of the current debate on the expansion of wind energy.
In the catapult article, we present an overview of the current situation of wind energy deployment and describe the main reasons for its decline. In addition, we show that this is not only due to bureaucratic and legal hurdles, but also brings new challenges for society, nature and landscape. We also describe the role of spatial conflicts of objectives in this context and why it is essential to inform and involve stakeholders to a greater extent in order to further advance the energy system transformation as a joint project.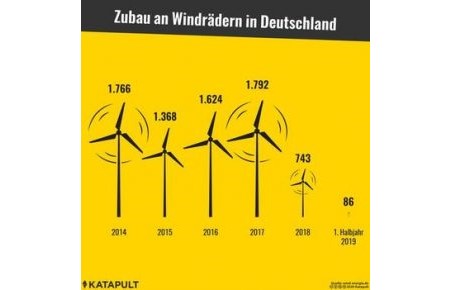 In "Does the climate package lack a spatial target for onshore wind energy?", the lack of expansion areas is considered as one of the reasons for the decline of wind energy expansion. These areas specially designated for wind energy are determined by the individual federal states. An area target formulated by the Federal Government, which sets quantitative requirements for the designation of wind areas for the individual Länder, can help to remedy this situation. In our article, we analyse to what extent an area target can be designed as a spatial planning instrument as effectively, efficiently and fairly as possible.
Do you have questions about the articles? We are happy to receive feedback and critical remarks via our contact form.
We wish you all a happy new year and all the best for 2020!