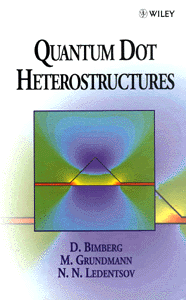 Quantum Dot Heterostructures
D. Bimberg, M. Grundmann, N.N. Ledentsov
Institute of Solid State Physics,
Technische Universität Berlin, Germany

Quantum dots are nanometer-size semiconductor structures, and represent one of the most rapidly developing areas of current semiconductor research as increases in speed and decreases in the size of semiconductor devices become more important. They present the utmost challenge to semiconductor technology, rendering possible fascinating novel devices.
---
December 1998, US$ 185
ISBN: 0-471-97388-2
John Wiley & Sons Ltd.
Shop at amazon.com bn.com amazon.de